The Genius of the Crowd
13 January – 17 March 2017, Jendela (Visual Arts Space), Esplanade, Singapore
Featured Artists: Mike HJ Chang (Singapore/Taiwan), Chen Wei (China), Ko Sin Tung (Hong Kong), Chulayarnnon Siriphol (Thailand), Yao Jui-Chung (Taiwan)
The crowd is a complex and plural entity, swayed by socio-political forces as often as it serves as an agent for social change. Even as groups display discrete allegiances to seemingly abstract principles, these may be expressed in universal and elemental emotions like joy, excitement, fear, or anger. This exhibition features new and recent work by East and Southeast Asian artists that relate to groups and imagined communities during times of social and urban change. Through video, photography and sculptural installations, they explore how different segments of society represent communal and individual identities, how people call for symbolic and political space by staking claims on urban infrastructure, and articulate the ways that the energies and psychology of collective behaviour are expressed.
Mike HJ Chang (b. 1982) makes sculptural installations that engage with scale, space and perception. Chen Wei (b. 1980) is known for his photographs of meticulously composed scenes that blur boundaries between landscapes and dreamscapes. Ko Sin Tung (b. 1987) uses painting, video and photography to examine psychological aspects of urban and domestic environments. Chulayarnnon Siriphol (b. 1986) is an experimental filmmaker who explores politics and society with evocative imagery and dark humour. Yao Jui-Chung (b. 1969) is an artist, curator, critic and educator whose works contexualise the complexities of Taiwan's political and historical past.
From Earth to Heaven
From Earth to Heaven features new and existing works by Chulayarnnon Siriphol which have been composed and reconfigured into a major installation. Composed of five video works and one light installation, it is grouped into two sections. The first consists of the experimental short film Myth of Modernity, a light sculpture with the same title, and a circular downward projection called Centre of the Universe. These three works contrast the ideals of Buddhist philosophies as expressed through architecture, with the realities of political life. It is a subtle presentation of the range of perspectives and ideologies expressed by people in Thailand over time. The second section consists of three videos which are performative in nature: Kirati 2, Planking and Blinding. Kirati evokes the influential segments of Thai society, while the other two videos document performances by the artist in public spaces as he intervenes with the urban fabric during socially meaningful times of the day. As a collective, these videos and works aim to present the complexities and nuances of the ideology of nationalism in Thailand as expressed through the evolving relationships between people and deities, documentary and fiction, reality and the supernatural, as well as the artist and audience.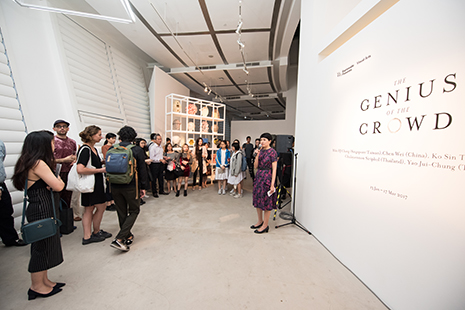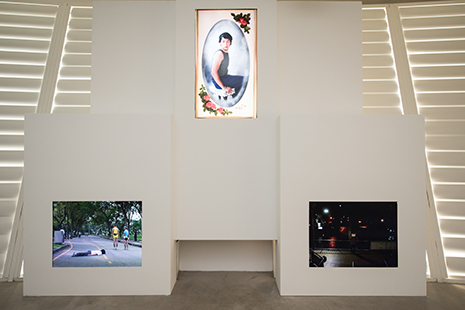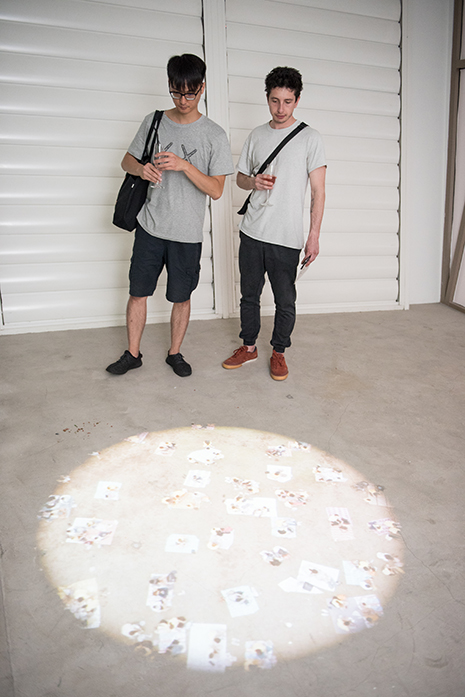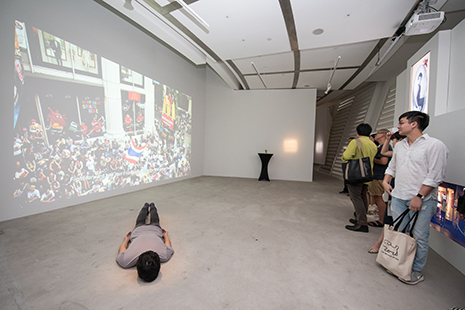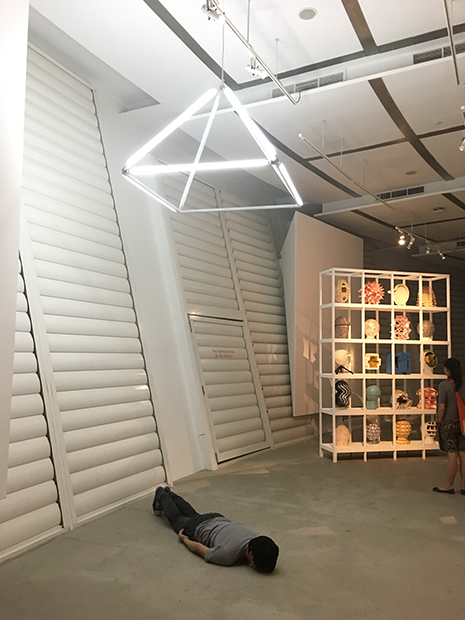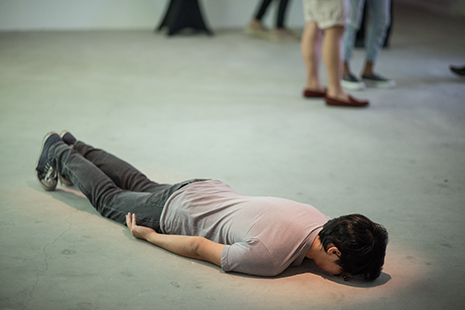 Chulayarnnon planked during the opening reception, 12 January 2017

FEATURE FILM


SOLO EXHIBITION