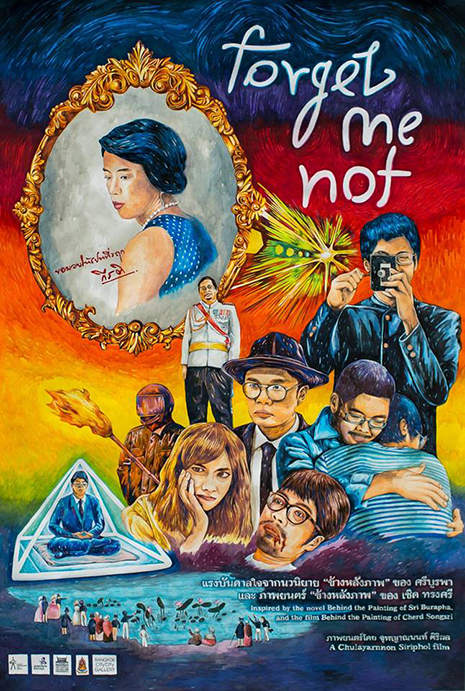 Forget Me Not
2018 / sound / color / Romantic Drama / 90 min
Synopsis
"Forget Me Not" is inspired from "Behind the Painting" the famed novel of Sri Burapha (Kulap Saipradit), was written in 1937. As this novel is apparently embedded with literature values and art which was revealed through the captivating story and beautiful words, it has been popularly adapted in TV drama, film, and musical theatre.
"Behind the Painting" the tragic romance between Nopphon, a Thai student studying in Japan, and Mom Rajawongse Kirati, a beautiful young lady and progeny of a noble family in Thailand. Kirati escorted Choakhun Attikanbodi, her noble and aged husband, to Japan for a business trip and her feelings were thrown into conflict when she ran into Nopphon who was entrusted by Chaokhun to take care of her. Their love originated from the increasing intimacy and they both fell in love with each other. However, their romance was not possible due to their differing social statuses and ages, thereby resulting in the tragic love story later on when Nopphon got married with Pree. As Kirati knew that she died slowly because her love couldn't come true. After the death of Mom RatchawongKirati, Nopphon begins a married life with Pree. Soon after the marriage, Nopphon seems happy. The couple are very much in love.
Director's Statement
"Forget Me Not" is in between visual art and film. In this film, there are combination of two art exhibition, Behind the Painting (2015) and Museum of Kirati (2017)
In 2014, Chulayarnnon was invited to participate in the Artist Residence Program at the Aomori Contemporary Art Centre (ACAC) in Japan. Inspired by the novel and his interest to reread the novel, he attempted to overlay this historical novel with the contemporary circumstances to trace and compare each other to seek the joint of story intertwined by the past and the present.
In 2015, Chulayarnnon continued his project. He sought for what was left between the lines which might have been overlooked or hidden "Behind the Painting" by presenting his work through the combination of painting, literature, acting and film through a solo exhibition as the same name as original novel "Behind the Painting" at Silpakorn university.
In 2017, Chulayarnnon created Museum of Kirati at Bangkok CityCity Gallery as a solo exhibition. This fictional museum dedicated to Kirati, a noble woman who passed away.
"Forget Me Not" is an attempt to reread the novel "Behind the Painting" and also reread Thai political history at the same time.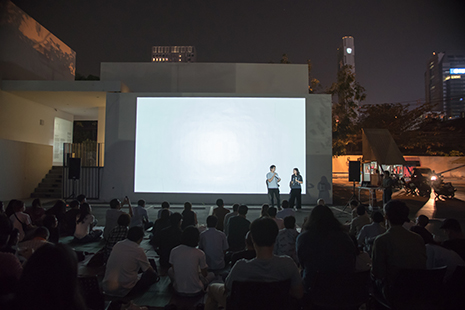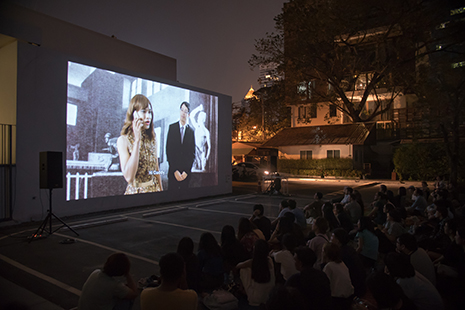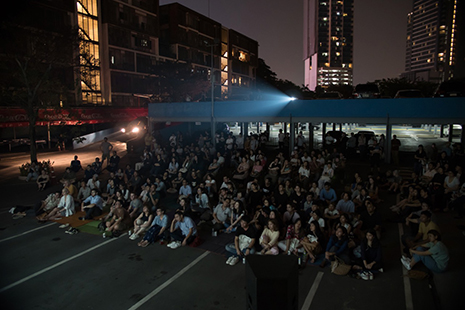 Outdoor screening for closing event of Museum of Kirati exhibition, 21 January 2018, Bangkok CityCity Gallery, Bangkok, Thailand
Film Festivals, Exhibitions, Screenings and Events
2018
•

•
Outdoor screening for closing event of Museum of Kirati exhibition, 21 January 2018, Bangkok CityCity Gallery, Bangkok, Thailand
Seoul International NewMedia Festival 2018 (NeMaf 2018), 15-24 August 2018, Seoul, Korea
2019
•

•

•
•

The Screening Room on Thursdays, 8 February 2019, Faculty of Communication Arts, Chulalongkorn university, Bangkok, Thailand
FILMVIRUS WILDTYPE MIDDLE CLASS 04, 17 March 2019, The Reading Room, Bangkok, Thailand
The opening of The MANIFESTO by MAIELIE, 24 June 2019, Khon Kaen, Thailand
Forget Me Not ข้างหลังภาพในมิติของภาพยนตร์, 27 July 2019, Candide Books, The Jam Factory, Bangkok, Thailand
2020
•
Chulayarnnon Siriphol Double Bill, Bangkok Screening Room, Bangkok, Thailand

Press, Reviews, Related Articles
FORGET ME NOT : ข้างหลัง 'ภาพ'

Chulayarnnon Siriphol Forget Me Not

ผู้กำกับ จุฬญาณนนท์ ศิริผล กล่าวเปิดงานฉายหนัง Forget Me Not [21 JAN 18]

10 หนังแห่งปี 2018 โดย filmsick

Flashes of fury in Khon Kaen

Forget Me Not ข้างหลังภาพในมิติของภาพยนตร์

Forget Me Not ควบ 100 Times Reproduction of Democracy

ดูหนังควบประวัติศาสตร์การเมือง และมหากาพย์ชีวิตของ จุฬญาณนนท์ ศิริผล

FEATURE FILM


SOLO EXHIBITION