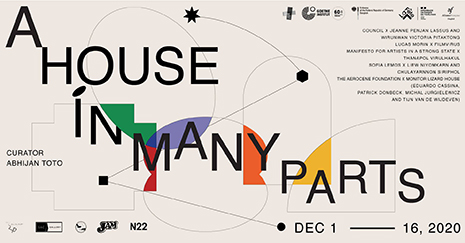 A HOUSE IN MANY PARTS

A house in Many Parts will take place from the 1st of December until the 16th of December 2020 in Bangkok. This multidisciplinary festival is jointly organized by the Embassy of France in Thailand and the Goethe-Institut Thailand with the support of the Franco-German fund.
Five practitioners based in France and Germany will prepare boxes containing objects or ideas and send them to their duo practitioner in Thailand. Based on their interpretation of the boxes' content, the 5 artists based in Thailand will create or curate artworks and share them with the public audience in various venues during events.
Through this unique concept of international collaboration, the artistic director of the festival, Abhijan Toto, invites the artists and the audience to question the role of collectivity in our present and future.
The Embassy of France and Goethe-Institut cooperate under the Franco-German fund and aim to strengthen the dialogue and collaboration between European and Thai artists.
A unique concept of International Collaboration
While collaborating in the hard context of a worldwide pandemic is hard, it should not stop the dialogue between artists all around the world. The artistic director decided to foster this idea with a unique way of creating an artistic dialogue; through boxes.
The boxes filled with artworks, ideas and objects are care packages sent to inspire and support artists in Thailand.
They will be sent through the same logistic networks that have become so important in our lives during the pandemic with home deliveries and online shopping. In these times, art should also stay important in our lives to give us hope and inspiration for our future.
Curator
Abhijan Toto is an independent curator and writer, interested in ecosophy, interdisciplinary research, labour and finance. In 2018, he co-founded the Forest Curriculum with Pujita Guha, a multi-platform project for research and mutual co-learning around the naturecultures of the forested belts of South and Southeast Asia.
--------
"บ้านเเหวกศิลป์"
จัดแสดงตั้งแต่วันที่ 1 - 16 ธันวาคม พ.ศ. 2563 ที่กรุงเทพฯ เทศกาลที่ผสมผสานศิลปะหลายแขนงครั้งนี้จัดขึ้นโดยสถานเอกอัครราชทูตฝรั่งเศสประจำประเทศไทย ร่วมกับสถาบันเกอเธ่ ประเทศไทย โดยได้รับการ สนับสนุนจากกองทุนฝรั่งเศส-เยอรมัน
นักสร้างศิลป์จากฝรั่งเศสและเยอรมนี ได้รับโจทย์ให้สร้างสรรค์ผลงานโดยการหาไอเดียหรือสิ่งของเพื่อบรรจุลงกล่องเเพ็คแล้วส่งมาให้นักสร้างศิลป์ที่ไทยที่จับคู่กันร่วมเเสดงงาน พวกเขาจะต้องตีความจากของที่บรรจุในกล่องเเปลงออกมาเป็นงานศิลปะสู่สาธารณะตาม สถานที่ต่างๆ ในช่วงระยะเวลาของนิทรรศการ
ด้วยแนวคิดอันเป็นเอกลักษณ์ของโครงการที่มีความร่วมมือระดับนานาชาติในครั้งนี้ อภิจัน โตโต ภัณฑารักษ์ของเทศกาลเชิญชวนศิลปินและผู้ชมให้ตั้งคำถามต่อบทบาทของการเก็บสะสมของพวกเราทั้งในปัจจุบันและอนาคต
สถานเอกอัครราชทูตฝรั่งเศสและสถาบันเกอเธ่ ร่วมกันจัดโครงการครั้งนี้ขึ้นโดยการสนับสนุนจากกองทุนฝรั่งเศส-เยอรมัน เพื่อกระชับความสัมพันธ์และความร่วมมือ ระหว่างศิลปินไทยและศิลปินยุโรป
แนวคิดอันเป็นเอกลักษณ์ในความร่วมมือระดับนานาชาติ
ขณะที่การทำงานร่วมกันในบริบทที่ยากลำบากในช่วงที่มีโรคระบาดไปทั่วโลกเป็นเรื่องที่ยากมากเเต่อุปสรรคนี้ก็ไม่ควรถูกยกเป็นเหตุผลให้ศิลปินทั้งโลกต้องหยุดการเชื่อมโยงกัน ภัณฑารักษ์ของงานได้ตัดสินใจที่จะหล่อเลี้ยงแนวคิดนี้ในวิถีทางที่แปลกใหม่ เพื่อสร้างปฏิสัมพันธ์ระหว่างศิลปิน โดยผ่านกล่องนั่นเอง บรรดากล่องที่บรรจุงานศิลปะ ไอเดียและสิ่งของต่างๆ เหล่านี้เป็นพัสดุที่จะถูกส่งอย่างทะนุถนอมเพื่อสร้างแรงบันดาล ใจและสนับสนุนศิลปินในประเทศไทย พัสดุเหล่านี้จะส่งมาโดยการขนส่งเเบบเดียวกับที่เราคุ้นเคยเเละใช้กันมากในช่วงที่เกิดโรคระบาด เช่น การสั่งของออนไลน์ สั่งซื้ออุปกรณ์ต่างๆที่ใช้ในบ้านซึ่งกลายเป็นสิ่งที่สำคัญในชีวิต ในช่วงเวลาเหล่านี้ศิลปะควร ยังคงความสำคัญในชีวิตของเราและให้ความหวังแก่เรา รวมถึงแรงบันดาลใจสำหรับอนาคตด้วย
--------
Event Schedule
Opening event
01.12 Baan Rim Naam- 6:30pm
The Birdcage
03.12 Goethe-institut Thailand - 6pm
Screening curated by Lucas Morin
แปร่ง // praeng
04.12 3FL Near Kubar - 6pm
Council x Jeanne Penjan Lassus and Wirunwan Victoria Pitaktong
Act of Paddling
08.12 Whiteline Silom - 6pm
MANIFESTO FOR ARTISTS IN A STRONG STATE x Thanapol Virulhakul
ANIMAL KINgDOM
11.12 N22 - 6pm
Screening curated by Wiwat Lertwiwatwongsa
Sonic Continuum
13.12 Jam cafe BKK - 6pm
Sofia Lemos x Chulayrannon Siriphol & Liew Niyomkarn
We thought we were a hovercraft, but we got stuck in the mud
16.12 Monitor Lizard - 12 to late
The Aerocene Foundation x Monitor Lizard House and closing block party
--------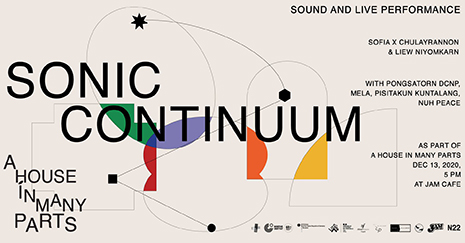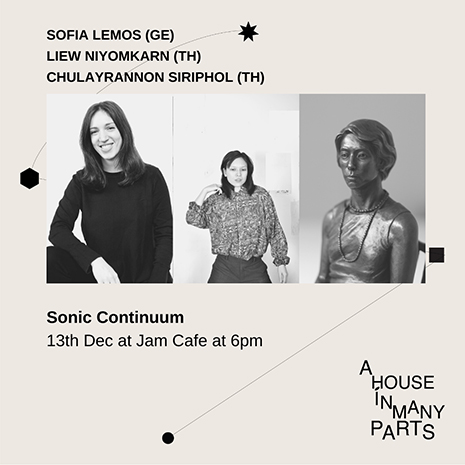 Sonic Continuum
13.12 JAM - 6pm
LINE UP OF ARTISTS
1st PART (Upstairs) from 6pm
Discussion, interaction between artists and public
Nightlife Reform Committee (organizational issues, gender issues..)
Pyra : (dystopian pop and politics)
DOGWHINE
MELA
2nd PART (downstairs) from 7pm
Performances
Chulayarnnon Siriphol and Liew Niyomkarn - 6:45 - 7:30
Nuh Peace - 7:30 - 8:15
Dogwhine - 8:30 - 9:15
Protozua - 9:30 - 10:15
Pisitakun Kuntalang - 10:30 - 11:15
Groove Alliance for democracy - 11:15 - 12
Sonic Continuum will consist of a program of discussions and performances around the relationship between sound and resistance from various contexts and perspectives, drawing from the eponymous long-term research project by curator Sofia Lemos. The evening will commence with the performance of a newly-commissioned audio-visual performance realized in a collaboration between Lemos, Liew Niyomkarn and Chulayarnnon Siriphol.
Accompanying the performance by Liew Niyomkarn and Chulayarnnon Siriphol there will be an ongoing discussion forum organized by members of independent music collectives in the city, bringing into focus issues central to their practice. Conversations will include discussions on problems facing independent musicians, issues of working in nightlife, social schisms within families etc. This will be followed by performances by the participating musicians.
--------
METHYLENE BLUE
2020 / live performance / sound design by Liew Niyomkarn / moving image by Chulayarnnon Siriphol / voice by Prontip Mankhong, Liew Niyomkarn and Chulayarnnon Siriphol
METHYLENE BLUE (2020) is a sonic and moving image collaboration between Liew Niyomkarn and Chulayarnnon Siriphol, commissioned by Sofia Lemos, for the multi-platform research programme SONIC CONTINUUM. Borrowing from the language of cosmetics advertisement, mass media and Thai soap opera, the work addresses questions around voice and speech in the context of the recent mobilisations in Bangkok. Using sound synthesis, Niyomkarn contrasts melodic parallels between the Thai anthem and the popular song 'Golden Land' with dialogues and conversations ripped from and recorded in global protest events. Drawing on these sonic granularities, Chulayarnnon folds digital noise into an otherwise common manifestation of a capitalised gendered division of affects, intimacy and politics in contemporary Thailand. Washed over by a deep blue tint reminiscent of other monochrome blues ubiquitous in Western art history, Methylene Blue complicates generational viewpoints, temporalities of resistance, and commands of complicity and concealment as demands for transformation reverberate more loudly across the streets of Bangkok.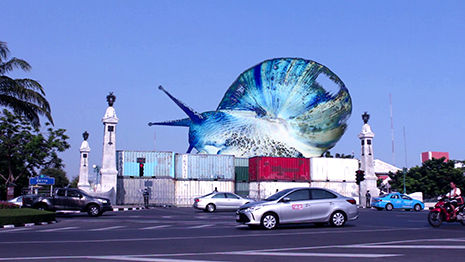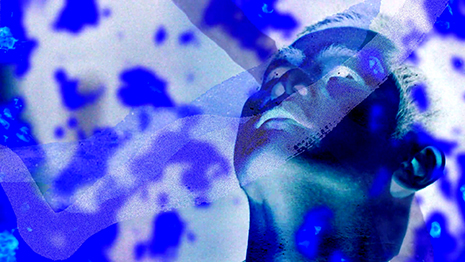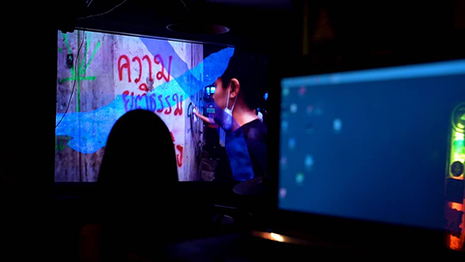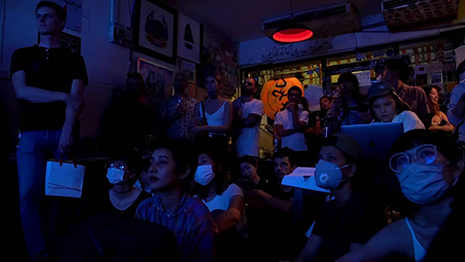 FEATURE FILM


SOLO EXHIBITION