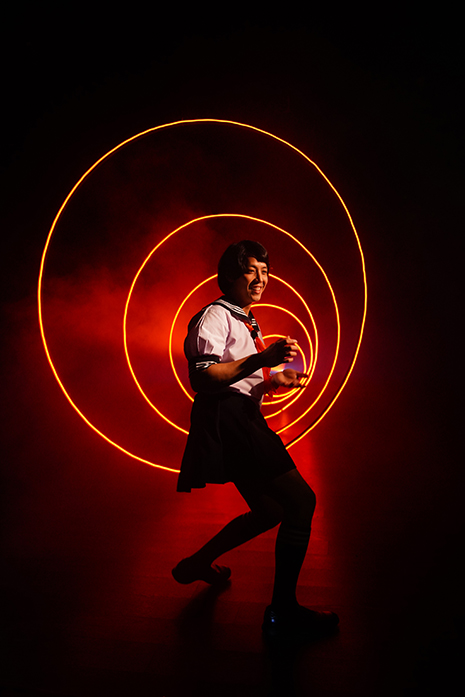 ANG48
2022 / Two-channel HD video installation synchronized on loops / sound / color / 25 min
Synopsis
ANGSUMALIN 48 is a full name of ANG48 which stands for a fictional organization 'Alliance of Nippon Girls 48'. The film is a synthesis of archival materials of Asian film history from different countries. The result is an intelligent operating system of 48 digits which was born into a half-human half-golden-snail figure. ANGSUMALIN 48 can dissolve and become invisible for human eyes in order to penetrate through the air as a secret cultural agent. The ANGSUMALIN 48 women have the role of building connections, spreading good relations and providing support for the alliance of Asian women in different countries to rise up and release their past pain since the WWII, the Cold War until today. The name of this operating system is chosen to commemorate and give honor to ANGSUMALIN, a Thai fictional character in Khu Kam, a novel by Thommayanti, who is an emblem of honesty, loyalty, and love to the homeland.
เอเอ็นจี48 (อังกฤษ: ANG48) มีชื่อเต็มว่า อังศุมาลิน48 (อังกฤษ: ANGSUMALIN48) หรืออีกชื่อคือ พันธมิตรสตรีนิปปง 48 (อังกฤษ: Alliance of Nippon Girls 48) อังศุมาลิน48 สังเคราะห์ขึ้นจากคลังข้อมูลประวัติศาสตร์ภาพยนตร์เอเชียหลากหลายประเทศ เกิดเป็นระบบปฏิบัติการจักรกลอัจฉริยะจำนวน 48 หมายเลข ที่อาศัยร่างกายกึ่งมนุษย์กึ่งหอยทากทองมากำเนิด อังศุมาลิน48 สามารถละลายสลายตัวตนจนไม่สามารถมองเห็นได้ด้วยตาเปล่าเพื่อเข้าแทรกซึมทางอากาศวัฒนธรรมอย่างเป็นความลับ พวกเธอมีหน้าที่สร้างความเชื่อมโยง ส่งออกความสัมพันธ์อันดี และให้กำลังใจพันธมิตรสตรีเอเชียในประเทศต่างๆให้ลุกขึ้นมาสละละทิ้งความเจ็บปวดในอดีตตั้งแต่สมัยสงครามโลกครั้งที่สอง สงครามเย็น เรื่อยมาจนถึงปัจจุบันไปพร้อมกัน โดยชื่อของระบบปฏิบัติการนี้ตั้งขึ้นเพื่อเชิดชูและเป็นเกียรติแด่ "อังศุมาลิน" สตรีชาวไทยจากนวนิยายเรื่อง "คู่กรรม" ของ "ทมยันตี" ผู้เป็นต้นแบบของความซื่อสัตย์ ความจงรักภักดี และความรักต่อแผ่นดินมาตุภูมิบ้านเกิดเมืองนอน
Trailer
Re/enacting History & Decolonizing Genteel Romance in Thailand & Asia: A Livestream Conversation with Chulayarnnon Siriphol
Sat 7th May 2022
Hybrid (online via Zoom and onsite @ the Jim Thompson Art Center, Bangkok)
Conversation in Thai with live English translation
Co-organized by Prof. Natthanai Prasannam (Research & Creation Unit; Department of Literature, Faculty of Humanities, Kasetsart University) and Dr. Wikanda Promkhuntong (Research Institute for Languages & Cultures of Asia, Mahidol University) in partnership with The Jim Thompson Art Center and Bangkok CityCity Gallery.
Film Festivals, Exhibitions, Screenings and Events
2022
•

•


Shadow Dancing: Where Can We Find a Silver Lining in Challenging Times?
17 March - 12 June 2022, Jim Thompson Art Center, Bangkok, Thailand
Shadow Dancing: Where Can We Find a Silver Lining in Challenging Times?
2 April - 15 May 2022, Hong-Gah museum, Taipei, Taiwan

2023
•

•

•

Autophagy: Eating in Its Destructive and Creative Nature curated by Eunha Chang, 1 February – 31 March 2023 (online exhibition)
Beautiful Soup – Five Inclusion Tactics for Seven Curators, 3–25 March 2023, de Appel, Amsterdam, The Netherlands
Exterior: The Science of Collective Consciousness, 5 April 2023, Tate Modern, London
Press, Reviews, Related Articles
Podcast : Chulayarnnon Siriphol - ANG48 2022


FEATURE FILM


SOLO EXHIBITION